| | | |
| --- | --- | --- |
| 1st Jamat | 8:00 AM | 10-July-2022 |
| 2nd Jamat | 9:15 AM | 10-July-2022 |
December 12, 2023

Fajr Iqamah

4:45 am

4 Hours 45

Minutes

Prayer
Begins
Iqamah
Fajr
3:56 am
4:45 am
Sunrise
5:38 am
Zuhr
12:50 pm
1:30 pm
Asr
5:50 pm
6:00 pm
Maghrib
8:00 pm
8:05 pm
Isha
9:37 pm
9:45 pm
Donations for The Noble Causes
Arabic School & Adult Brother Quran Class

Funeral Service

Islamic Marriage Celebrant and Counselling

General Community Service
Passion, Creativity, Discovery
We begin by praising ALLAH (SWT) and send our salutation on His Messenger Muhammad (peace and blessings be on him). In Quakers hill Arabic school we put our trust in the almighty and dedicate our time, passions and perseverance to pass the authentic knowledge to your children in pursuit of success in this world and hereafter. For more details please click the link below: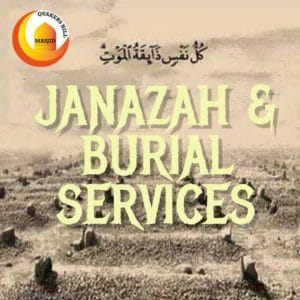 Funeral Service


The funeral prayer is a communal obligation (fard kifaayah) that must be offered for any Muslim who dies in the Community. Quakers Hill Masjid is always in the forefront to organize this sacred event. We believe a funeral to be a very spiritual occasion. Everyone in attendance participates in group prayers, in which mourners pray that Allah will have mercy on not only the deceased but also on all deceased Muslims. Please contact us for any assistance in funeral service. 
Abu Huraira reported: The Messenger of Allah, peace and blessings be upon him, said, "Whoever follows the funeral of Muslim, in faith and seeking reward, and he remains with it until the prayer is offered and the burial ceremony is finished, then he will return with two great rewards. Each reward is like the size of mount Uhud. Whoever offers the funeral prayer and returns before the burial, then he will return with one great reward."
Source: Ṣaḥīḥ al-Bukhārī 47, Ṣaḥīḥ Muslim 945
Please contact at quakershillmosque@gmail.com for details.
Islamic Marriage Celebrant and Counselling
Marriage is a social institution as old as the human race itself.It may be defined as a relation between a man and a woman which is recognised by custom or law and involves certain rights and duties, both in the case of the parties entering the Union, and in case of the children born of it.Marriage has thus two main functions to perform: it is the means adopted by human society for regulating relations between the genders; and it furnishes the mechanism by means of which the relations of a child to the community is determined.
The current sheikh of Quakers Hill Masjid – Sheikh Youssef Hasan is a certified registered marriage celebrant. Our Masjid has been organizing this beautiful islamic ceremony from the beginning of its establishment. The sheikh is also trained and authorised to offer marriage counselings to couples who need help in this regard.
Please contact at quakershillmosque@gmail.com for details. 
General Community Service


We, Quakers Hill Masjid, humbly take pride to be proactive in any kind of community help and service. Whether it is a natural calamity or a need for financial help we always stretch our hand in benefiting our community locally, nationally or even internationally. Please contact at quakershillmosque@gmail.com for any such needs.
Sheikh, Quakers Hill Masjid, Australia
Imam Hafiz Shamsul A Khan
Imam, Quakers Hill Masjid, Australia